ASUS M3N78 PRO
From LinuxMCE
Version
Status
Date Updated
Updated By
710
According to category, Works with caveats
11th May 2010
Wierdbeard65
810
Unknown
N/A
N/A
1004
Unknown
N/A
N/A
1204
Unknown
N/A
N/A
Usage Information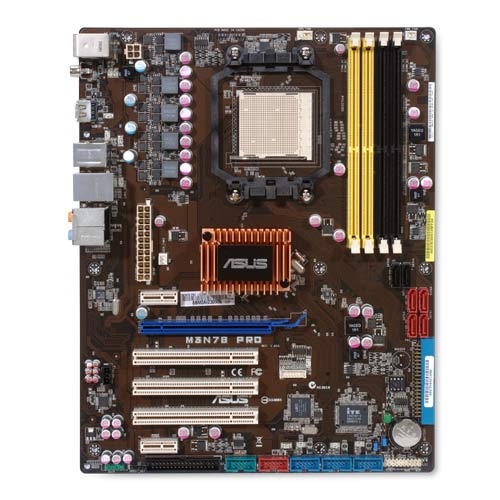 LinuxMCE important hardware features
AMD Socket AM2+ / AM2 Phenom FX/Phenom/Athlon /Sempron Processors, AMD Cool 'n' Quiet™ Technology, Support CPU up to 140W
Integrated Graphics NVIDIA GeForce 8300 (Supports HDMI™ Technology with max. resolution up to 1920 x 1200), Supports D-Sub with max. resolution up to 1920 × 1440 @ 75 Hz, HDMI/DVI(using included HDMI-DVI adapter)/RGB Support
Supports 8GB DDR2 Memory in 4 DIMMS
1 x PCIe x16/V2, 2 x PCIe x1, 3 x PCI 2.2
1 xUltraDMA 133/100/66/33, 6 xSATA 3 Gb/s ports (Use SATA1-4 for IDE mode.) / RAID Support RAID 0,1,0+1,5,JBOD
Realtek® ALC1200 8 -Channel High Definition Audio CODEC, Coaxial S/PDIF out ports at back I/O
Ethernet - Realtek® 8211CL Gigabit
IEEE - 2 x 1394a ports and 12 USB 2.0 ports
Test/Production System
CPU: AMD Athlon(tm) 64 X2 Dual Core Processor 5000+
RAM: KINGSTON DDR2 800MHz 2GB
HDD: SATA SEAGATE BARRACUDA 7200.10 500GB
DVD-RW: LG (SATA)
Dual PCI CARD Intel Ethernet 10/100 Pro Server
Logitech Cordless USB LX310 Keyboard and Cordless Laser Mouse
FiiRE Chief (Gyroscopic mouse and pointer)
LinuxMCE: 0710 quickinstall AMD64 i386 DVD
Disabled Onboard Ethernet
Results
Used VGA Port for complete install. Switched to HDMI using Audio Video Wizard. Removed the ribbon VGA connector completely.
With the latest nVidia drivers integrated card supports UI2 with alpha blending with resolution 1080p.
Digital HDMI Audio not tested, as I don't use audio on TV at all and use digital receiver instead.
Troubleshooting
Problem: SATA disk cannot be found by installator.
Solution: Changing the SATA mode to AHCI solved that.
Problem: After installation starts monitor looses a signal.
Solution: Solved by using i386 DVD instead of AMD64
Problem: After installation before staring AVWizard monitor looses a signal.
Solution: Boot to rescue mode and install the latest nVidia drivers downloaded from NVIDIA site.
Problem: Digital audio (HDMI) doesn't work.
Solution: Not figured out yet. Using S/P DIF at back of motherboard connected to Yamaha Receiver
Problem: Average performance with 1080p (8300 is a great chip and ASUS allows some overclocking!)
Solution: Changing interface to UI2 with overlay. Additionally tips from article Nvidia_Card_Tweaks_For_Better_MythTV_and_UI_Performance was used and have no trouble with intensive usage.
Manufacturer's link here