MSI MS-7329
From LinuxMCE
Version
Status
Date Updated
Updated By
710
Unknown
N/A
N/A
810
Unknown
N/A
N/A
1004
Unknown
N/A
N/A
1204
Unknown
N/A
N/A
Usage Information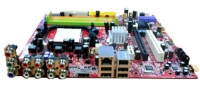 MSI MS-7329
The MS-7329 is a Micro-ATX mainboard and is based on nVidia® C51PVG (ie this is a 6150 class chipset) and nVidia® MCP51 chipsets. Designed to fit the AMD ® Athlon64 X2 / Athlon64 processors in the socket AM2 package, this mainboard delivers a high performance and good I/O.
http://217.110.237.67/Manuals/7329-engl%20v1.0%20-%20MS-7329%20(G52-73291X1).pdf
This board works with the standard lmce-0704 nVidia drivers and delivers excellent graphics performance under UI2 + Overlay & UI2 + Alpha blending (although you will experience a small amount of tearing as with other nVidia based machines).
Although at a pinch you could certainly use this MB in an MD we have been testing in Hybrid Cores and it performs very well in this role when equipped with an AMD 2400 (dual core 64 bit processor clocked at 2.5Ghz) and 2Gb of RAM.