NMEDIAPC 600 BA
From LinuxMCE
Version
Status
Date Updated
Updated By
710
Unknown
N/A
N/A
810
Unknown
N/A
N/A
1004
Unknown
N/A
N/A
1204
Unknown
N/A
N/A
1404
Unknown
N/A
N/A
Usage Information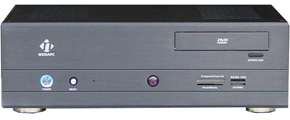 Status
Purchased from newEgg, more data available on the nMEDIAPC website: http://www.nmediapc.com/htpc600.htm
Features
2×60mm silent case fan; 1×80mm silent HDD fan
All-in-One Card Reader (probed as "generic mass storage device" and connected via internal USB)
Microsoft Vista Remote - Windows MCE Receiver and Windows MCE Remote (Does not work with LinuxMCE or MythTV)
2× USB 2.0; IEEE 1394; MIC and HeadPhone connectors on the left front of the case
S/PDIF output jack
Microsoft MCE IR remote rack to install a 2005 MCE remote (could probably be used for many other IR Blasters / transceivers.
Experience
Runs quiet. I will probably disconnect the blue power LED and the red HDD LED. Will have to install a new IR transceiver that is compatible with LinuxMCE or just get the Fiire Chief.