Ocelot by Applied Digital inc
From LinuxMCE
The Ocelot by Applied Digital inc.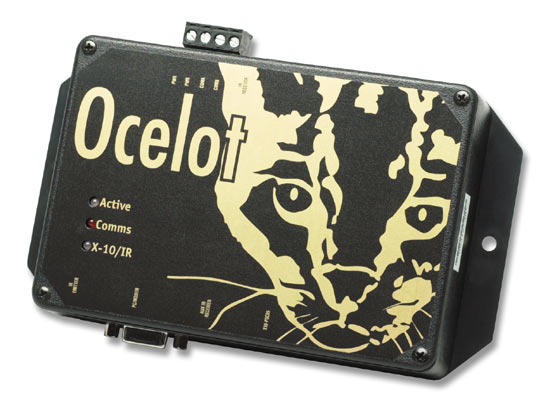 This page is intended as a placeholder for information about the Ocelot (link), which can be controlled by LinuxMCE. This page isn't finished as is and will be extended in the future.
Overview of the Ocelot
The Ocelot is Applied Digital Inc's (ADI) second generation of the original CPUXA home automation (HA) controller. The Ocelot features a complete programming language allowing the user to execute tasks based on complex "If/Then" logic. Tasks can be activated by various input and output (I/O) sources, or programmed to execute automatically based on time or date criteria, or by any combination of these. An external computer can be connected to the Ocelot and information exchanged in real time between the two, allowing expanded capabilities like web access and user created software applications to interface to the home automation system. Finally, the Ocelot supports an ever growing list of expansion modules to add capabilities like reading digital and analog inputs, activate relays, measure temperatures, humidity, etc. and even have slave Leopard or Ocelot controllers to facilitate access to it's resources.
Hardware Description
The Ocelot consists of a main central processing unit that holds the user program in non-volatile memory using flash-RAM technology. It has built in I/O interfaces for:
X-10 devices. X-10 is a powerline communications protocol supported by multiple vendors of HA equipment.
Infrared control. There is an Infrared (IR) receiver located along the top edge of the unit and an IR emitter can be connected to the I/O connector or jack to enable the controller to transmit IR commands. An external IR receiver can also be used with the Ocelot (with the built-in IR receiver disabled).
Serial port. The RS-232 serial port is used to load programs and other data into the Ocelot and also serves as an interface to any external computer program that supports the Ocelot as an interface to a HA system.
RS-485 expansion bus. The bus is used by the proprietary Adnet protocol to allow the Ocelot to communicate with the various expansion modules and slave controllers available from ADI. Like all other ADI controllers, the Ocelot can be configured as either a master or slave controller.
Serial Protocols
Device Template