VIA PC2500e-gOS
From LinuxMCE
Version
Status
Date Updated
Updated By
710
Unknown
N/A
N/A
810
Unknown
N/A
N/A
1004
Unknown
N/A
N/A
1204
Unknown
N/A
N/A
Usage Information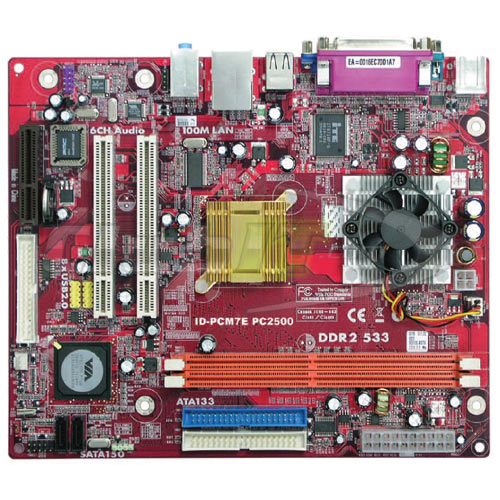 This page is to document efforts to get LinuxMCE working on the PCchips V21G/PC2500E/gOS Via C7 mainboard, originally discussed in the Products & Services forum "LinuxMCE on Wal-mart's $200 gPC, is it possible??? it really is affordable".
Status
This motherboard has NOT YET been confirmed to fully work with LinuxMCE properly (or vice versa) by anyone. Do NOT buy it just because you saw it here, you have been warned.

2007-12-11: Kubuntu 7.10 x86 installed --User:blackoper:blackoper
Hardware Features
Size: microATX
Processor: Via C7 1.5ghz onboard
Chipset: CN700/8237R+
Memory: 2x DDR2-400/533
Graphics: Embedded UniChrome Pro 3D Graphics with 64M share memory - VGA
Expansion: 2x PCI, 1x CNR
Audio: Realtek ALC655 6-channel audio codec
Storage: 2x SATA 150, 2x UDMA133
Network: VIA VT6103L 10/100Mbps Fast Ethernet PHY
USB: 4x USB-2.0/1.1
Firmware: V1.0c - Bios V1.0d is available here
Purchase
I found the V21G V1.0C mobo sold by a variety of vendors starting at $60, but the first with a quality rating (60%) was at $67.80, 90% rating at $75.94 (Matthew 11:17, 11 December 2007 (MST)).
Problems and Pitfalls
Display
Current bios limits graphics to 1280x1024. New bios update V1.0D adds 1400x900 according to changelog.
I think getting a nvidia 6200 pci card would allow for UI2.5. I believe any content over 720p though would stress the pci's bus limit of 60MB/s. I know in the myth mailing list 1080p content was not doable over the pci bus.
Sound
there does not appear to be passthrough digital available on this motherboard. One option would be to use usb audio or a pci card. I'm currently using a turtle beach micro 5.1 optical usb output device for digital sound