ZOTAC ION
From LinuxMCE
Version
Status
Date Updated
Updated By
710
Unknown
N/A
N/A
810
Applies
30th June 2010
phenigma
1004
Unknown
N/A
N/A
1204
Unknown
N/A
N/A
Usage Information
ZOTAC IONITX-C-U Intel Atom N230 Mini ITX ION Platform Motherboard/CPU Combo with 90W PSU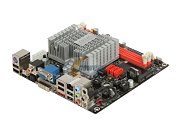 I decided to use the Zotac Ion 230 motherboard for one of my Media Directors, here are the steps that I took to get it up and running.
If you buy the 330 version keep in mind that you´ll need the included fan because the 330 generate more heat than the 230. Unfortunately the fan is kind of noisy and there is no way to tune the speed of the fan with settings in bios as of current bios version (2009-07-14).
Look at the installation notes on the bottom for more information and some troubleshooting

Dont forget to purchase the board with the power adapter included. http://www.newegg.com/Product/Product.aspx?Item=N82E16813500028
and you will need some RAM http://www.newegg.com/Product/Product.aspx?Item=N82E16820178154
Steps
First, go into BIOS, change the "igpu frame buffer size" to the maximum of 512MB. Then, ensure the onboard LAN ROM is enabled (this will allow you to netboot the Media Director using PXE).
Boot the motherboard and let the core build the initial image (should get to the AV wizard with no issues)
In 0810 Beta2 you should be able to select anything you connected, for my board i used hdmi2 with 1080p at 60hz and it worked directly.
Let it build everything, you might have to restart once or twice.
Before update/upgrade i had to add the key for medibuntu:
  wget http://packages.medibuntu.org/medibuntu-key.gpg && sudo apt-key add medibuntu-key.gpg && rm medibuntu-key.gpg

.. this will download the repository keys, make it available to the 'apt' package manager and will clean up by deleting the downloaded copy. Adding the new key will require the password for the user 'sambahelper' - simply hit the <Enter> key.
Then you will need to update and upgrade with these commands (using the 'sambahelper' password of simply hitting <Enter>):
  sudo apt-get update

  sudo apt-get upgrade (don't use dist-upgrade)

HDMI Video
Works out of the box, if AVWizard is black screen, press the number "3" and wait, AVWizard will show.
HDMI sound older install
The following was for a Zotac ION N230 board PXE boot to Linuxmce 0810 Beta2
Update your md with apt-get update and apt-get dist-upgrade
Install Alsa 1.0.20 or above, run apt-get install alsa-modules-2.16.27-17-generic to get the latest alsa.
You have to reboot here, (stop all applications using sound devices and reload all alsa sound modules didn't work).
Unmute all channels in alsamixer
ONLY if your device is showing up as unknown in dmesg add the following line to you /etc/modprobe.d/alsa-base.conf
options snd-hda-intel model=6stack-dig
HDMI sound newer install
PXE boot the Zotac ION
Unmute all channels in alsamixer
It works

this worked for me, i have hdmi audio working now with great thanks to Mandingo
Zotac IONITX-G-E Intel Atom N330 SYNERGY Atom N330 1.6GHz DC Mini ITX Motherboard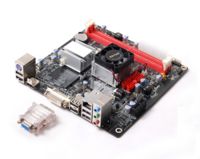 Most of what is described above from the IONITX-C-E section applies to the IONITX-G-E
As described above, this motherboard uses a small, high-RPM fan which is definitely not silent.
Zotac IONITX-A-U Intel Atom N330
Wireless Access Point
The IONITX-A-U ships with a mini PCI-Express wireless N adaptor that can be used as an Access Point on your internal network.