Difference between revisions of "House Setup Wizard"
From LinuxMCE
---
Revision as of 16:48, 21 October 2007
This is a setup wizard which runs automatically on the first startup after installation and can be ran from the orbiters by selecting the Advanced > Setup Wizard.
Choosing the Correct Wizard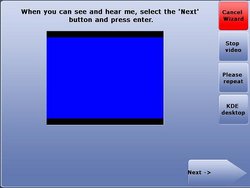 After selection of the Setup Wizard you will see an additional screen. If the audio and video are properly setup you should see and hear a video. If this is correct please select Next.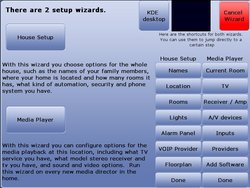 The next screen you will encounter asks which wizard would you like to start: Media Player Wizard or the House Setup Wizard. Please select the wizard you want to begin.