LinuxMCE media coverage
From LinuxMCE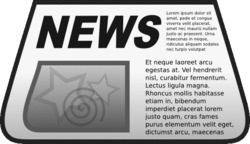 This is where we archive press and blog coverage of LinuxMCE.
News sources
2008 coverage
Automated Home, 12 June 2008
...media is only 20% of the LinuxMCE experience.
LinuxJournal, 15 April 2008
...It is stable, easy to use, and requires only the most basic computer skills to get going.
News, forum, wiki, Russian translation to help Russian users with LinuxMCE installation and configuration.
Latest news, tips and hacks.
2007 coverage
OSWeekly.com, 4 October 2007
...LinuxMCE vs. MythTV. LinuxMCE is the most amazing thing to come out of the multimedia world on any platform, period. But try finding an OEM carrier that will sell this amazing product to you, pre-installed. You won't find many.
Trolltech.com, Issue 6, September 2007
...once in a while one really gets impressed. Linux Media Center Edition (LinuxMCE) has just blown me away! ... What blew me away now was how elegant LinuxMCE actually turned out to be. It is a no-nonsense user interface putting media in the limelight.
CNET News.com, 26 September 2007
A security expert who once worked for Microsoft has said he may dump the company's Windows Media Center in favor of Ubuntu-affiliated LinuxMCE after struggling with the software giant's digital-rights management software.
Read more...
Matt Hartley, Intranet Journal, 4 September 2007
...Having used DVRs from both my local cable provider and that of the two satellite companies here in the U.S., to say that there is a market here would be a huge understatement. Both the MythTV and LinuxMCE projects would make fantastic business models for any company if the hardware costs could be brought down. That, and if we might begin to see set-top boxes being made available.
Read more...
Paul Monckton, Personal Computer World, 24 August 2006
With the release of Windows Vista, using your PC to watch and record TV has become a whole lot easier. Now, for the first time, Windows Media Center comes bundled with Home Premium and Ultimate versions of the standard Desktop operating system.
Read more...
Aaron J. Seigo, KDE.NEWS 15 August 2007
When picking a media center solution for your PC, it tends to be a matter of compromise. There are solutions that are visually attractive, solutions that are Free/open source software, solutions that are more complete than others and solutions that integrate well with a desktop environment. In the past there have been few, if any, that have been all of these things. After an extensive beta testing period a new version of LinuxMCE, release 0704, was recently made available to the public that shows how we can indeed have our media center cake and eat it too.
Read more...
Kyle, 24 March 2007, New Linux User
LinuxMCE is a recently released Linux distribution that promises to be the MythTV for the rest of us. MythTV is notoriously difficult to set up and LinuxMCE promises to be the easiest Media Center Linux distribution complete with an installer that is so easy to use any user with absolutely no Linux experience will have no problem using it.
Read more...
Datanytt.no, 22 March 2007
Linux MCE er et fullstendig mediasenter som kan alt du forventer av en mediasenter pc i dag. Men det er også mye, mye mer.[1]
Download Squad, 21 March 2007
MythTV, the popular Linux based PVR project, has been around for some time. It's nice, and it functions well, but it's only as functional as Windows Media Center Edition plus, it can be difficult to install and configure. Linux MCE, which wraps MythTV up into a nice package and places it squarely on top of the leading Linux distribution Ubuntu -- may be poised to change some of that.
Read more...