Main Page
From LinuxMCE
Your guide to a smarter home!
Screenshots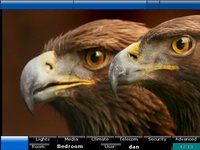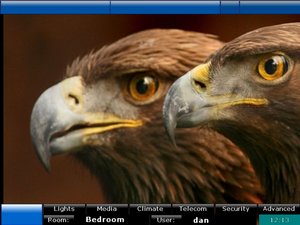 Main menu with media in the background
(high resolution UI2B)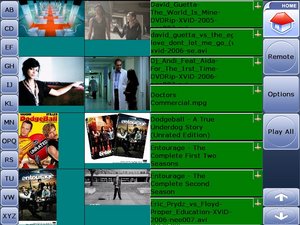 Browsing media files
(low resolution UI1)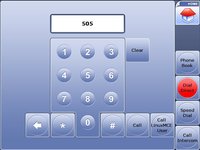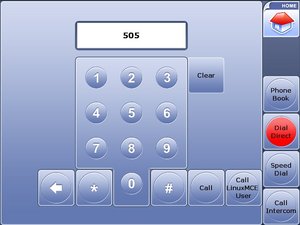 Telephone dial pad
(low resolution UI1)

More screenshots and videos
LinuxMCE is the only all-in-one open source solution that seamlessly combines:
Media & entertainment with a server for music and video, plus a PVR (like TiVo or Sky+)
Home automation to control everything from lights to heating with a touch-screen tablet or your mobile phone
VoIP based Phone system
Security system that feeds live video to your mobile device during a security breach
LinuxMCE builds on the superior networking capabilities of Linux to create a home automation/multimedia/communication network. No other operating system has this capability.
Read more to see all the possibilities that LinuxMCE offers.
See the FAQ for quick answers to common questions about LinuxMCE.
Watch the LinuxMCE Video showing a detailed hardware and installation walk-through.
Download
Please take a moment to read about known issues before downloading our Quick Install DVD or the Two-CD Installer.
You may then want to check out the DVD Installation guide for a step by step walk through of setting up and configuring LinuxMCE.
Project News
Wiki Site News
A new tutorial on developing C++ devices is in the wiki: Developing a DCE Device
A new scratch-pad area is being set up to help document a new front end website.
LinuxMCE Wiki was updated to the latest version which includes an RSS feed extension. Instructions about how to use it can be found here.
Documentation Access
This Wiki has many hierarchical categories of articles. There are also developer maillists, source code repositories (with attached discussions), bug/issue report management and forums for discussion among users, developers and other members of the LinuxMCE community.
User Setups and Videos
Support
Development