MiCasaVerde Z-Wave Dongle
From LinuxMCE
Version
Status
Date Updated
Updated By
710
Unknown
N/A
N/A
810
P'n'P
20th July 2010
Purps
1004
Working
12th October 2011
Murdock
1204
Unknown
N/A
N/A
1404
Unknown
N/A
N/A
Usage Information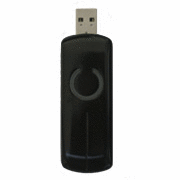 Status
reported to work by multiple users
About
This dongle is compatible with LinuxMCE, ControlThink and most other Z-Wave home control software. It uses the latest Z-Wave software, 4.27 from October 2008, with support for all the new command classes, and supports both high speed (4x 40kbps) and standard speed Z-Wave devices.
What sets this USB interface apart is that it has a built in inclusion controller. You no longer need to have a separate master controller that you use to pair your Z-Wave modules, and then go through the process of replicating to transfer the data to your USB controller. Instead, just carry this USB dongle around as you turn on/off your Z-Wave modules and they are paired in one step. Be aware that you cannot include other controllers with the button. You need to use LinuxMCE or Vera for that (or any other Z-Wave software supoporting the dongle)
Available in either U.S. or Euro Z-Wave frequencies.
This Product is supplied to MiCasaVerde by Aeon Labs and can be bought as an Aeon Labs Z-Wave Interface with built-In Inclusion Remote
Binding
To bind new Zwave devices, just take the dongle with you after you install the device in it's position you will use it. First push the button on the dongle, and than push the bind button on the device. The dongle will go from blinking blue to solid blue for a second or so and than start blinking again, you just succesfully bound the device to this dongle.
Troubleshooting
First look in the error logs, follow logs, whole log in the webadmin under the zwave device for anything out of the ordinary. If all else fails, just delete all zwave devices from the webadmin, delete the zwave device, reload the router and plug the dongle back in to have it recognize it again. If this doesn't work go on the forum or irc channel and ask for help.
Links
http://shop.micasaverde.com/index.php?main_page=product_info&cPath=110&products_id=151
Aeon Labs Version: Aeon Labs Z-Wave Interface with built-In Inclusion Remote from Techstyle UK Ltd. }}