QuickStart Guide
From LinuxMCE
Steps for installing Linux MCE on an Ubuntu 6.10 system (only Ubuntu 6.10 is support for now):
1. Take an Ubuntu install already configured with Internet connection (Configure your network card and DNS). If you don't have an Ubuntu system already installed please follow this generic steps:
- Take an Ubuntu Live Cd and boot from it.
- Choose 'Start or install Ubuntu'
- Wait the cd to boot; from Desktop double-click on 'Install'
- A short wizard will start and guide you; Select the language and press 'forward'
- Choose you timezone and press 'forward'
- Select the keyboard layout
- Choose desktop name, an user name and a password
- Select the partitioning options for your disk: erase the entire disk or just manually edit the options.
- Ready to install.
- Reboot the system and remove the Live CD


2. Go to www.linuxmce.com and press 'Download' to download the Linux MCE Installer on your machine. Or just use this direct link click here

3. Save the mce-installer on your Ubuntu desktop. A pop-up message will appear and there you must check "Save to Disk" and then click "ok"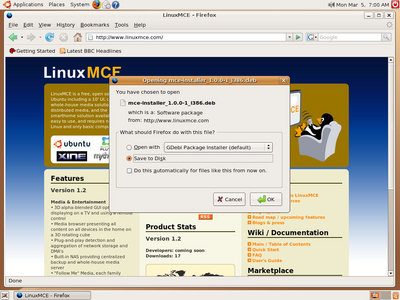 4. Then double-click on your "Install Linux MCE" icon from ubuntu`s desktop to start the installation process. A window will appear asking to choose if you want a dedicated core or a hybrid (click hereto find out the difference between a core and a hybrid), after that you must click on "Forward" button.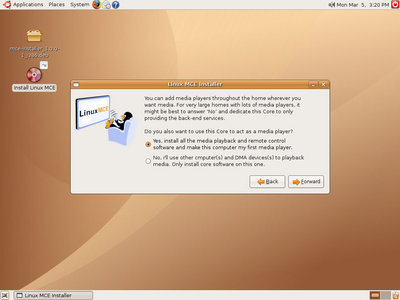 5. The next screen will ask you want to keep your current network configuration or if you want to set your network options manually; then press "Forward".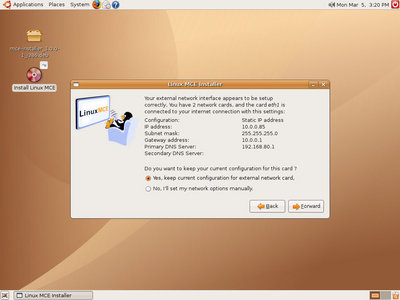 6. In the next step you must select the method you want to choose to install Linux MCE and you have 3 options:
- Download the needed packages from the internet. Just downloads the packages from linuxmce.com website.
- Download and use an ISO file from one of LinuxMCE mirrors. Instead of downloading the packages one by one just downloads an archive which contains all packages. 
- Use the Linux MCE CDROM that I already have in my drive. Download first the ISO file on your hard drive, burn it on a disc and insert the disc in drive.


After you have chosen your option press 'Forward'.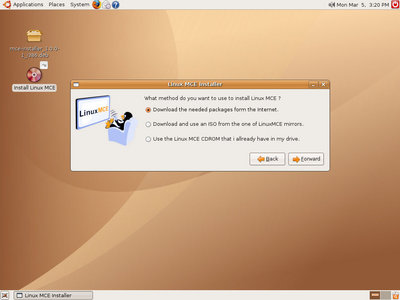 7. In the next step you have 2 options :
- First asks you if you want to Run a DHCP Server or not. A dhcp server is needed for the internal network and allows you to add devices like: media directors, network players, external hard drives, etc.
- The other option asks if you want to keep the default Internal Network address or if you want to change it.

After that you must press 'Forward'.

8. In the next window you can see how the Linux MCE system is installing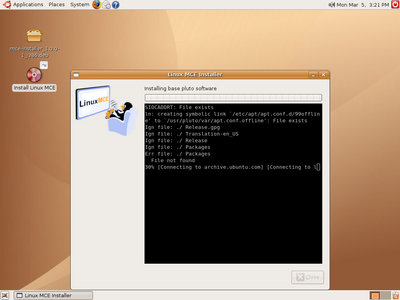 9. In the final step you will see a message saying "Installation was finished , please reboot"


After reboot you have the Linux MCE software installed.
Getting started From Ubuntu menu > Application > Sound & Video > Start 'Linux MCE Center' The Start-up will take somewhere between 5 and 10 minutes. In this time some software/services will start (like: mysql server, etc.), you just have to wait, no other manual setting are needed.
Next, the AVWizard starts which will guide you though audio/video settings for your hardware.
These are the steps:
The final step asks for a confirmation of these steps, if you press 'I Agree' the installation continues and you'll get the Media Center started.
At this time you don't have any rooms or users added in data base. Using the UI go to Advanced Options screen and choose 'Setup wizard' which will start guide you through whole house and media setup.
Note that the video files are missing; you won't see or hear the instructions

Here are some screen shots from video wizard: