QuickStart Guide
From LinuxMCE
Please create a wiki on linuxmce.com with installation instructions that includes screen shots (ie the ubuntu desktop with installer, etc.), download links, etc. making it step-by-step how to get linux mce installed and configured. Make this a quick start guide. Also, make a wiki page that shows the UI options and includes a screen shot of the main menu, media browser, dvd control options, etc., in ui1, ui2 with alpha blending, and ui2 with masking. For the UI2's, capture at 1280x720. For the UI1, at 800x600. Have them arranged in a grid on a wiki page (ie 3 columns for the 3 ui's, and a list of all the screens, with a thumbnail in each cell that when clicked shows the full-screen). I don't know how to do a screen capture in Linux, but maybe Alex can help.

Steps for installing Linux MCE on an Ubuntu system:
1. Take an Ubuntu install already configured with Internet connection (Configure your network card and DNS). If you don't have an Ubuntu system already installed please follow this generic steps:
a. Take an Ubuntu Live Cd and boot from it. b. Choose 'Start or install Ubuntu' c. Wait the cd to boot; from Desktop double-click on 'Install' d. A short wizard will start and guide you; Select the language and press 'forward' e. Choose you timezone and press 'forward' f. Select the keyboard layout g. Choose desktop name, an user name and a password h. Select the partitioning options for your disk: erase the entire disk or just manually edit the options. i. Ready to install. j. Reboot the system and remove the Live CD

2. Go to www.linuxmce.com and press 'Download' to download the Linux MCE Installer on your machine. Or just use this direct link click here
3. Save the mce-installer on your Ubuntu desktop. A pop-up message will appear and there you must check "Save to Disk" and then click "ok"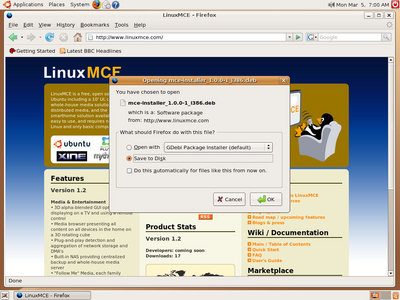 4. Then double-click on your "Install Linux MCE" icon from ubuntu`s desktop
5. A window will appear asking you to choose if you want a dedicated core or a hybrid, after that you must click on the radio button "Forward"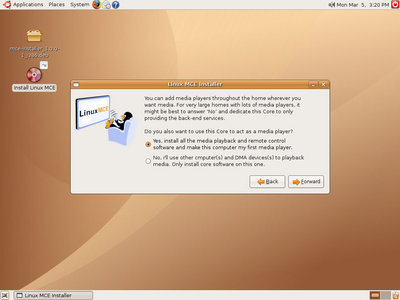 6. In the next screen will show you the network configuration and you will be asked if you want to keep your current configuration or if you want to set your network options manually then press "Forward".
7. In the next step you must select the method you want to choose to install Linux MCE and you have 3 options
- Download the needed packages from the internet. .....
- Download and use an ISO from the one of LinuxMCE mirrors.....
- Use the Linux MCE CDROM that I allready have in my drive........ 

After you have chosen your option press Forward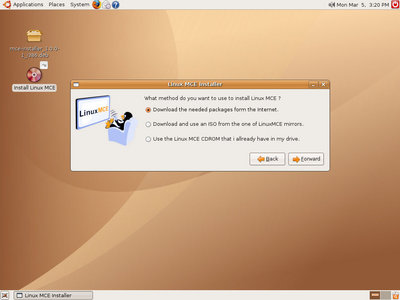 8. In the next step you have 2 options :
- first asks you if you want to Run a DHCP Server or not. 
- the other option asks if you want to keep the default Internal Network address or if you want to change it. After that you must press Forward

9. In the next window you can see how the pluto system is installed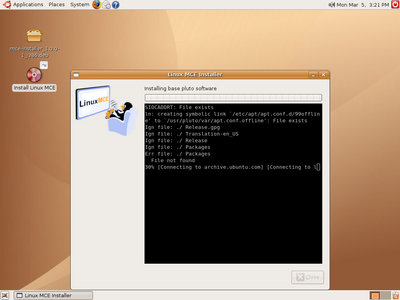 10. In the final step you will see a message saying "Installation was finished , please reboot"


UI2 Screenshots
| | | |
| --- | --- | --- |
| UI2 Main menu | UI2 Main menu with a movie in the background | Bubu3 |
| | | Image:MainMenu1.jpg |