Difference between revisions of "Tricklestar 200ZW-EU-W"
From LinuxMCE
---
Revision as of 19:03, 11 May 2010
Version
Status
Date Updated
Updated By
710
Unknown
N/A
N/A
810
According to category, Works without caveats
11th May 2010
Wierdbeard65
1004
Unknown
N/A
N/A
1204
Unknown
N/A
N/A
1404
Unknown
N/A
N/A
Usage Information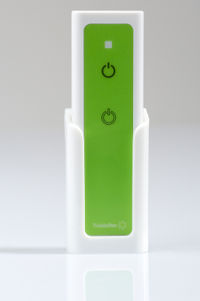 Status
Tested with the latest svn Z-Wave driver (will be included in 0810). Also works as inclusion controller when LinuxMCE runs as SIS. Runs also fine with stock 0710 as primary or secondary controller.
This is the recommended inclusion controller
About
The Tricklestar 200ZW-EU-W is a Z-Wave Remote Controller based on a Zensys chip. It uses a frequency of 868MHz. There is also a US version.
Configuration Switch
The product has a slide switch under the Rubber end piece (next to the USB connector), which can set the product in "Operation Mode" and "Configuration Mode".
How to reset the Remote (from the Manual)
Resetting the Controller
Put the Configuration Switch in "Configuration Mode".
Press-and-hold "Up" Operation button for 2 seconds to enter Configuration Mode. LED Indicator will illuminate Green.
Press-and-hold "Up" Operation button for 10 seconds - this will initiate a reset of the Controller. LED Indicator will alternate Red, Yellow and Green while remote is being reset.
LED Indicator on the Remote will illuminate Green when Reset is successfully completed and illuminate Red if the operation is unsuccessful.
Links