User:Bmac2
From LinuxMCE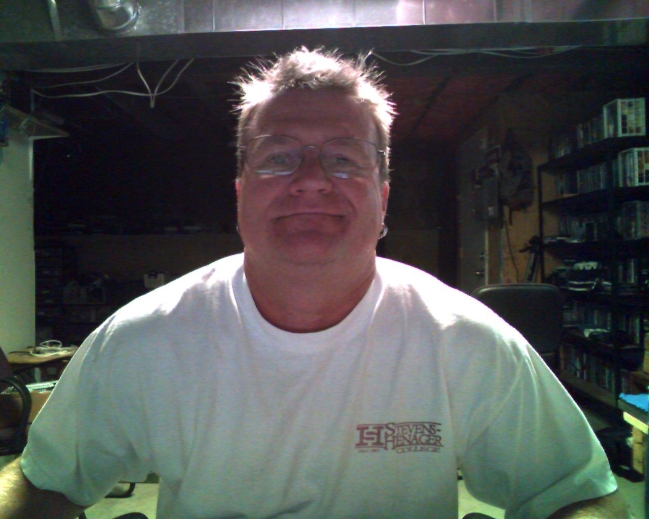 Barry McCormick
Douglas Street
Salt Lake City, Utah 84102
USA
VOIP Phone: 801-438-3590


My username is bmac2, I am not a JR, or anything like that, on an old bbs in the late 80s early 90s one bbs required there to be at least one number on your username, and i was using bmac (short for Barry McCormick) and I added a 2 to it. Been using that name almost exclusively online since.
I was born in Alabama and have both my BS and MS in Chemical Engineering from the University of Alabama. I lived in Texas for about 10 years total, 4 years in the army at Ft. Hood, over a year in Austin, then a good 3 in Houston. I then lived New Orleans from 1997 until 2001 when I moved to Salt Lake City, Utah for family reasons.
My LMCE setup is currently as detailed below. It is far from being complete, but I am being hounded by our resident wiki nazi ( g you KNOW who you are!!!) so here goes.
Core/Hybrid
I use a hybrid core in my setup. I have my office/workspace/media room in the basement of my house. Since my core is down here it makes more sense for me to use it as a hybrid and not have another computer running.
Motherboard
ABIT AN-M2 ver 2.0 Socket AM2 940 Processor with 2000MT/s system bus
Micro-ATX form factor (244mm x 244mm)
1x PCI-E X16 slot
1x PCI-E X1 slot
2 PCI slots
built in gigabit network card
2 IDE channels
4 sata ports
built in sound card with digital out
Processor
AMD 4600+ Retail box processor with AMD branded CPU Fan
Memory
Video Card
GeFORCE Nvidia 8600GT PCI-E 16x with 512 Meg of Memory
Hard Drives
IDE - Maxtor 300 GB hard drive
SATA - Western Digital 1TB green power hard drive

Software Raid managed by LMCE

SATA - Seagate 300 GB drive
SATA - Western Digital 160 GB drive
DVD drive
Dual layer Memorex DVD/CD/CDR reader/writer
Media card reader
no name media reader that reads 6 types of media cards. Fits in a 5 1/4 drive bay
Case
An old case I have had for a while, nothing special except I put a brand new "quiet" power supply in it for the new motherboard. The power supply is a CG Super Power brand that I got at a local store. 480 Watt Supply with a "silent fan". The size was based on my running the 4600+ processor and 6 hard drives, plus dvd, etc.
Mouse and keyboard
Logitech wireless ergonomic mouse and a generic HP keyboard. My core sits next to my desk, so I don't uses any fancy remotes for it, just a mouse and a keyboard.
Serial Port card The new motherboards do NOT have serial ports, so I bought a PCI-E X1 slot serial port card. I need two serial ports, one for my projector control via serial interface, the second to try to get a vfd display working on the system.
Bluetooth
A cheap targus generic bluetooth dongle (avoid these, at least get a trendnet or better!!!!)
Projector
Optoma DLP projector Model EP-721
Native resolution 1024x768, but capable of1080i.
Projector actually made by a division of Epson. Nice projector for under $500.
Den Media Director
Generic PC built to be the MD
Motherboard
ABIT AN-M2 ver 2.0 Socket AM2 940 Processor with 2000MT/s system bus
Micro-ATX form factor (244mm x 244mm)
1x PCI-E X16 slot
1x PCI-E X1 slot
2 PCI slots
built in gigabit network card
2 IDE channels
4 sata ports
built in sound card with digital out
Processor
AMD 5600+ retail with AMD fan
Memory
Video Card
Hard drives
NONE - this system network boots using PXE, so no drives needed, which makes it quieter, use less power, and generate less heat
DVD Drive
Bluetooth
Trendnet Bluetooth dongle
Remote
WII controller set up as a remote
TV Capture Card
Satellite Box
DirecTV Dual tuner pvr Satellite box, model R-15
IR Control
USB_UIRT with a set of IR extender dongles
TV
CRAPPY Zenith 36 inch TUBE tv. Hope to make it go away soon.
Stereo Reciever
15 year old low end Onkyo receiver.
Master Bedroom Media Director
Motherboard -  ???/
Processor -  ?????
Kitchen Media Director
Motherboard -  ???/
Processor -  ?????
Mobile Orbiters
Nokia N800 tablet pc
Compaq Ipaq hx2755 color
Phone System
One of the MAJOR subsystems, and in my opinion, one of the most powerful and useful subsystems in LMCE is the Asterisk/FreePBX hone system. It allows you to do cool things like assign extensions to family members, give everyone in your family their own mailbox, etc. Connected to a VOIP provider, your phone system can now do things that it never could before. Forget the phone company and run your own phones the way you want them to run.
VOIP Provider
Broadvoice with a second number and the international package so I can place obscene calls to lmce users in other countries.
Cisco 7970 Phone
The cadillac of phones. These have the color touch screen, can act as an orbiter (remote control) and handle multiple extension, custom wallpapers, custom rings, etc. Very much plug and play when you follow the wiki page on this phone set up by TSCHAK. Mine is running the Cisco SCCP ( or skinny as it is nicknamed ) protocol. If you can catch one of these on ebay at a reasonable price, get it. They are a very nice phone with built in speakerphone, headset jacks, hold, transfer, etc.
Cisco 7960 Phone
Just one step down from the 7970, but can be bought at a much cheaper prices used on places such as ebay. This model has 6 phone line/extension capability, but no color and no touchscreen. It is a very nice solid phone, like most Cisco products. Mine is running SCCP and was set up using the directions for the 7970, which defaults to the sccp protocol.
Cisco 7912 Phone
A single line phone with no fancy features like speakerphone, multiple extension, but a good solid phone with a very clean looking silver top and a nice quality small monochrome display on it. I picked mine up for around $20 + shipping on ebay. Like all my phones, it is running SCCP protocol.
Analog Telephone Adapter (ATA)
I bought an unlocked linksys PAP2T-NA adapter. Make sure if you are buying an adapter off the Internet that the model has the -NA on it. Any model without the -NA is locked to a provider like Vonage, etc. While they CAN be unlocked, it is a very painful process, and does not always work, depending on a ton of factors when you start hacking them. My advice, if you have one, search the internet and play, but buy yourself one that is unlocked by design and use it. Even if you unlock one of the vonage ones, they can still possibly give you trouble. I think mine cost me like $48 or so online. This adapter is wired to the phone wires (cat 3 type original phone lines) that are running through the house. So we can plug in any standard phone device, and can plug the satellite dish STBs to the phone line for programming updates. The second port of the ATA is set up as a fax line to receive faxes, or send them if needed. I changed the default fax line in LMCE to aim at this extension.
Analog Cordless Phones
My wife has a set of the uniden cordless phones that has the base one that plugs into an analog phone line and the other 2 handsets attach to it wirelessly. The entire reason I put the ATA in was so she could keep those phones and use them. These along with all the analog phones are set up on a seperate extension. While you can't call a specific one of them, you can call the analog extension and ring them seperately.
Fax Machine
YES I know it is old school, but I have it, and an analog port, so what the hell. It is a 8 or 9 year old SHARP UX-510 Plain paper fax. My plans are to set up a more sophisticated fax system with lmce, but, this was fun to do just to say I did.
Network Layout
As a person who works a lot as a network person, my network often changes to suite the latest thing on my plate. But below is the base portion of my network, and what runs my systems. My network is only 10/100 at the moment, but I intend to upgrade to gigabit at first oportunity. The switch you choose makes ALL the difference in the sound quality of your calls. I had to remove a fairly nice managed 3Com switch from my network and replace it with an an ancient Cisco 300FastHub. That cleared all the echo of my phones.