User:Bottrader
From LinuxMCE
SMART HOUSE Project
"SMART HOUSE" Project is based on LinuxMCE for Home Security and Automation as per this network diagram :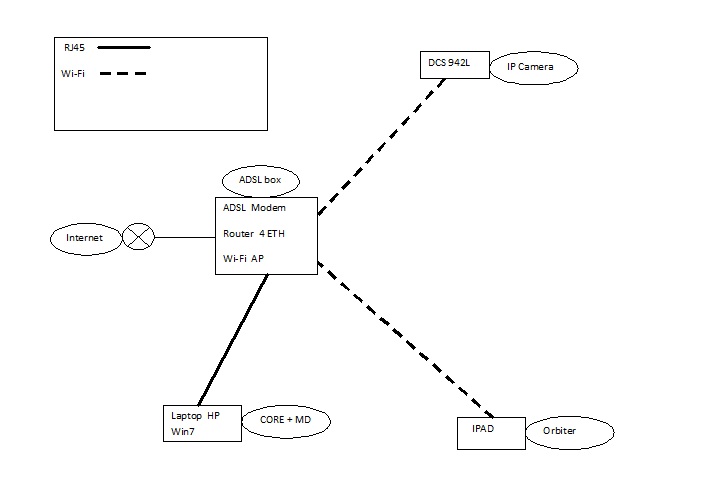 Hardware configuration
- 1 ADSL Router
- 1 CORE+MD PC : Laptop ASUS + Intel Core Duo + Nvidia GEForce Ge96 GT130M + 1 network card
- 1 camera IP D-Link DCS-942L
- 1 tablet IPAD with RoamingOrb (Orbiter application version 1.0.3)
The CORE : LinuxMCE 10.4 Installation
A Core is a single dedicated PC acting as a server that interacts with all the components of the system.

1- Snapshot LMCE 22/10/2012 Revision 26592
- Installation DVD in Hybrid configuration ( Core + MD )
 - Kubuntu install = OK
 - LinuxMCE install fails before loading AVWizard due to Nvidia driver issue

2- Snapshot LMCE 26/11/2012 Revision 26859
- Installation VirtualBox 4.2.4(1 NIC) - Installation DVD in Hybrid configuration (1 NIC)
ORBITER : RoamingOrb 1.0.3 in IPAD tablet
Orbiters are high-tech remote controls. An Orbiter is the device that displays the LinuxMCE User Interface. It is used to send commands to devices in the LinuxMCE system.
Security
Security functions include light control, surveillance camera monitoring, and, motion detection.
Events can be triggered based on detected motion or various sensors. LinuxMCE can send alerts to your mobile phone, set your alarm based on different schedules and scenarios, and even automatically lock the door when you leave your home.
Home automation
The Home Automation features of LinuxMCE are convenient and energy-efficient. With Home Automation you can control lights and climate , control of plug sockets and even sprinkler systems and also the whereabouts of music or video played in your home. Mobile phones can also be turned into remote controls for your entire house.