User:Techstyle
From LinuxMCE
I built my first LMCE system in the Summer of 2008, knowing nothing about Linux. Since then I have learnt a bit about Linux and about LMCE but still have a way to go. In November of 2008 I moved from the UK to the US. My Hardware has evolved over time and I have included an early network setup (UK) and the current one (US) as well as a list of the hardware I am currently using.
Software Setup
Currently running Linux MCE 0810 Beta 2

My hardware is as listed below:
A/V Equipment
Core/MD1 (Hybrid - Living Room)

• Gigabyte GA-M61SME-S2 with GeForce 6100 (256Mb shared), Realtek 8201 phy (10/100Mbit – eth0) LAN onboard
• AMD Athlon 64 X2 5000+
• 2 x 1Gb DDRII
• Nvidia GeForce 8600GT 512Mb
• ASUS NX1101 10/100/1000 LAN card (eth1)
• Creative Labs Audigy2 ZS (connected to receiver by Digital Coax)
• Samsung 1Tb SATAII drive
• Western Digital 200 Gb IDE drive (boot drive)
• 1.5 Gb SATAII drive
• IOGear GBU421 Micro Bluetooth Dongle
• DVD Player with Lightscribe
• Wireless Keyboard
• Wireless Trackball Mouse (from Techstyle UK Ltd. - http://www.techstyleuk.co.uk)
• Windows MCE Remote
• USB UIRT
• Sharp LC46D85UN LCD TV connected by RS232
• Pioneer VSX-411 AV Receiver – 'Blasted' by the USB UIRT
• LG BD550 Blu Ray Player with Netflix
• Hauppauge HD PVR
• Xbox 360 with Kinect
• Scientific Atlanta Explorer 8300HD Cable Box
• Microphone
MD2 (Master Bedroom)
This MD is a Laptop that is connected to a network switch at various locations around the house but mainly in the Master Bedroom.
• Zotac Atom 330 ION with 2 Gb Ram
• Hitachi 450Gb SATAII drive
• Gyration Keyboard
• Wireless Trackball Mouse (from Techstyle UK Ltd. - http://www.techstyleuk.co.uk)
• LG 32LC350 LCD Screen
MD3 (Basement)
My Basement MD is mounted on the wall and the units case is hidden in the closet behind. This apartment is rented, otherwise I would have fixed it to the inside wall of the closet and run the cables directly through the wall

• Matsonic MS8147C VIA KT400 Chipset Socket A, Realtek RT8100B LAN (10/100 Mbit), AC'97 audio (sound did not work)
• AMD Athlon XP 2600+
• 3 x 256Mb PC133 DDR
• Elsa Erazor 8x AGP (Nvidia GeForce 440MX chipset) 128Mb
• Creative Labs 5.1 sound card
• Maxtor 40Gb IDE drive
• CDRom
• Viewsonic VE500 15" LCD Monitor
• Altec Lansing Quadrophonic Speakers
• Gyration Ultra GT Cordless Air mouse and Mini Keyboard
Mobile Orbiter
• O2 XDA IIi connected via WIFI (802.11b)
• Zenithink ZT-180 Android Pad connected via WIFI (802.11g)
Telecom Equipment
• Tesco Internet Phone IPA1000
Security Equipment
• Generic USB Webcam
• Linksys USB Quickcam
Automation Equipment
• MS14A X10 Motion Sensor x 4
• LM15A Socket Rocket x 5
• WS467 Wall Switch Module
• LM465 Lamp Module
• TM751 Mini Transceiver x 2
• KR19A SlimFire 2 Unit Remote
• KR22A 4 Unit Credit Card Controller
• SS13A 3 Unit + Dim RF Style Switch
Network Equipment
• Motorola Surfboard
• Linksys WRT54G router/WIFI Access point (SSID linuxmce)
• 2 x D-Link DGS-2205 5-port 10/100/1000 Desktop Switch
• D-Link DL-604 router - Not Currently used
• Netgear ADSL modem/router/WIFI Access point (SSID jasong) - Not currently used
Network Setup
Below is my network layout, both in the UK and US
Network Setup - UK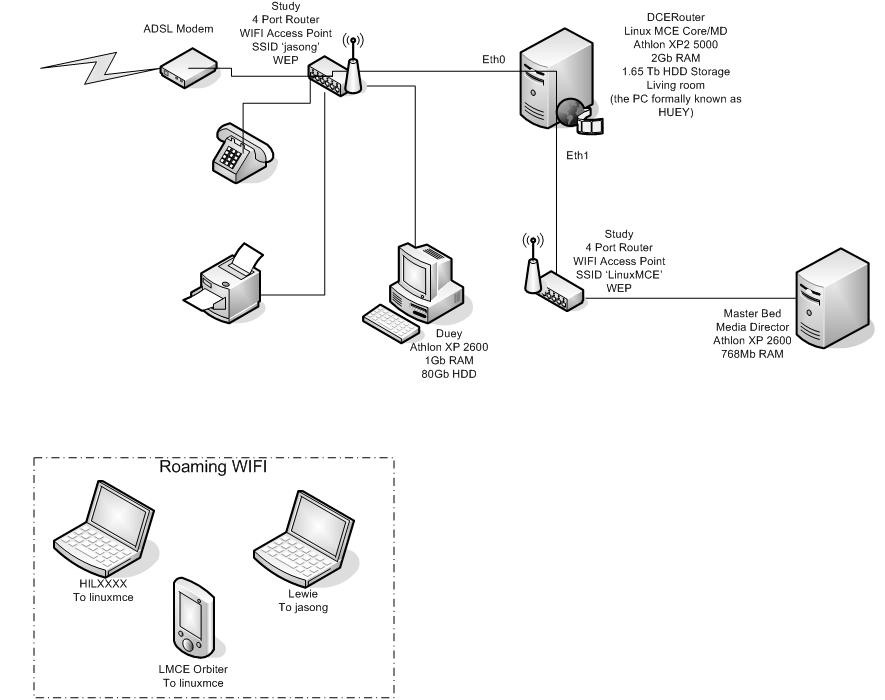 Network Setup - US (red are gigabit, blue are 100M)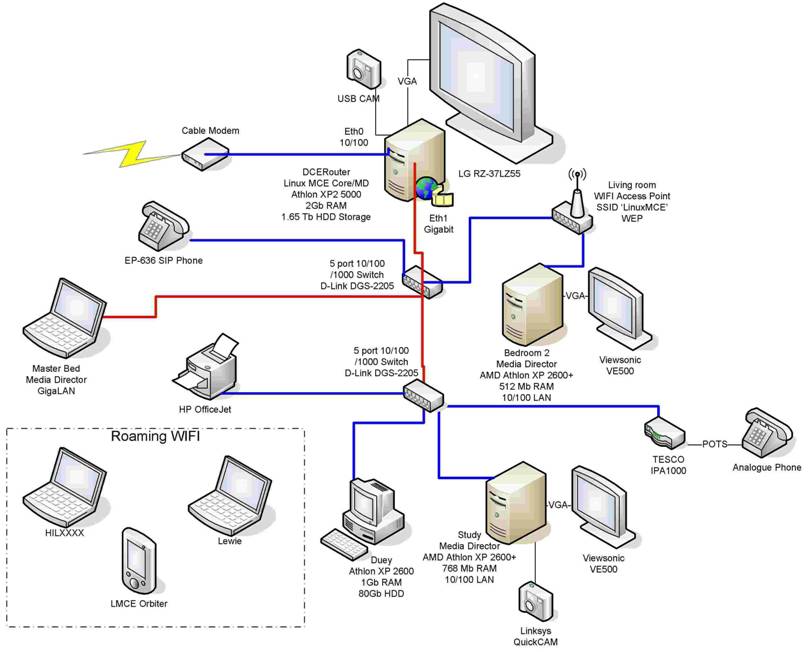 Problems and Solutions
Resolved Issues
XDA IIi orbiter is not working - this is fixed, a rebuild took care of this
Media Director in the Study - this is fixed, a rebuild took care of this. No media directors would work with my previous build
Tesco Internet Phone - The phone would lose connection after about 60 seconds, this was resolved and an Wiki page was added with the instructions on how to over come it.
Media disapearing from the database when a MD is started - When there are multiple drives on there is a problem with the StorageRadar scripts. the fix is detailled here
Get the Microphone to work with the Creative Labs Audigy2 ZS on our core - played around with ALSAMixer and this is now working
Set up Voicemail on Asterisk: I wanted to recieve e-mails when a voicemail was recieved by the system clickhereto learn how.
Outstanding Issues
1. I can not get my NVIDIA 8600 to work, but don't really need it.
2. Set up Bluetooth dongles in order to get the mobiles working - Blackberry 8300 Curve, Nokia 6085
3. Get the RS232 control of LG RZ-37LZ55 37" LCD TV working
4. Replace the MCE remote IR reciver/Blaster with a USB UIRT to blast IR to the VSX-411 and the Scientific Atlanta Explorer 8300 cable box
General Notes
Sharp Aquous does not fit the screen. Modeline modification needed and turn of EDID.
Modeline "1920x1080@60" 148.500 1920 2008 2056 2200 1080 1084 1089 1125 +hsync +vsync
is the new modeline