Difference between revisions of "View Cameras"
From LinuxMCE
---
Latest revision as of 07:20, 3 May 2010
Version
Status
Date Updated
Updated By
710
Unknown
N/A
N/A
810
Unknown
N/A
N/A
1004
Unknown
N/A
N/A
1204
Unknown
N/A
N/A
1404
Unknown
N/A
N/A
Usage Information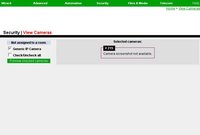 Here you can view all your security cameras either live, or if you enabled archiving, you can view a video archive of the cameras. Refer to the Wizard > Devices > Surveillance Cameras page to specify which cameras should be archived.
Simply check the box of the camera that you would like to view.